Once your library site has enabled the Friends and Leaderboards feature, readers can add other readers on your library's Beanstack site as friends. Friends can then view each other's reading logs, challenge histories, and earned badges, as well as compete on their leaderboards. You can watch this short video or follow the steps below to learn how to add, view, and remove friends and track friends' status on leaderboards.
Adding Friends
Readers can click the Friends tab at the top of their screen, in between Challenges and Reviews, to add and view friends and leaderboards. Note that account creators under the age of 13 will not be able to add friends or generate a share code.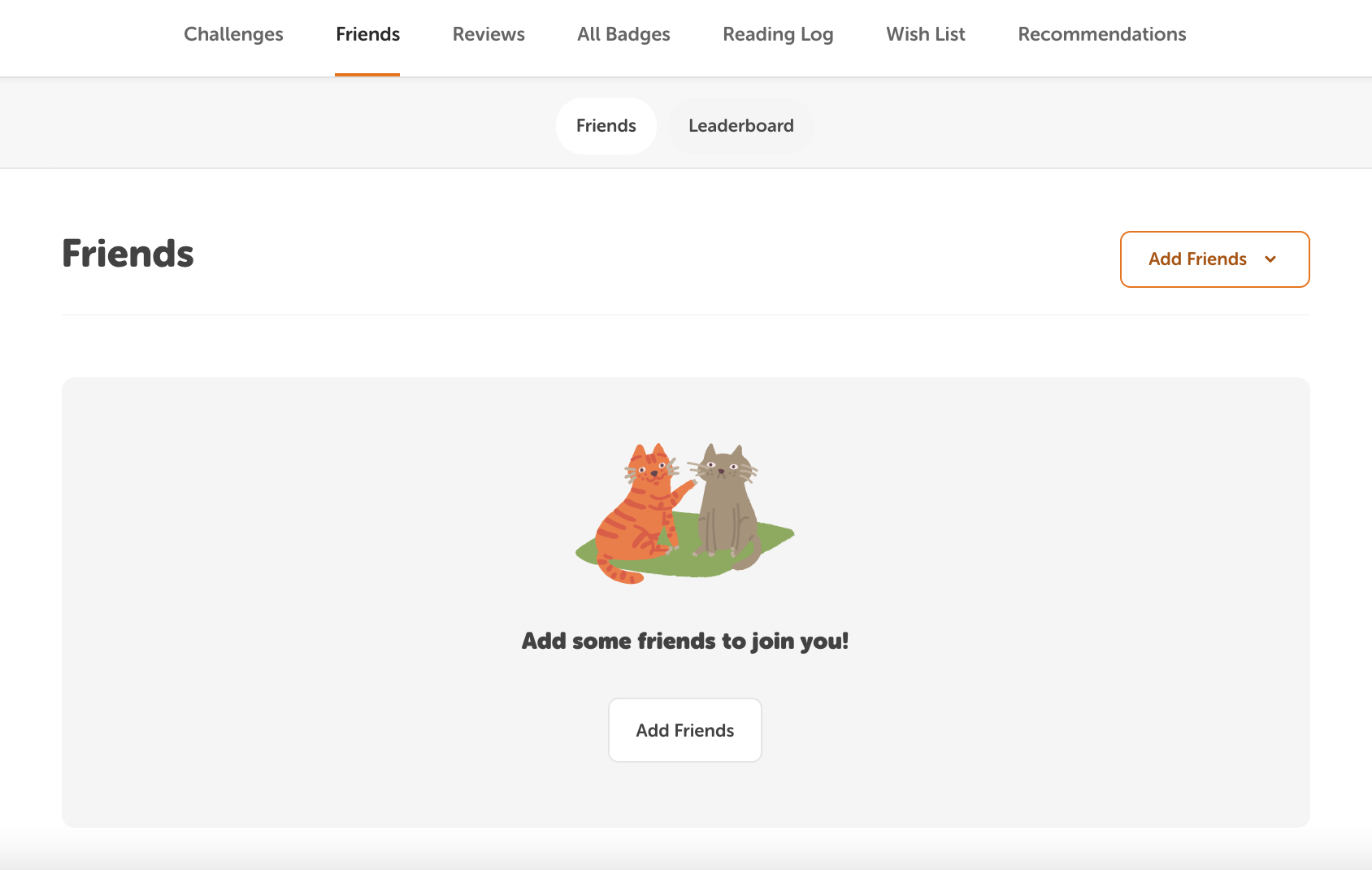 Before adding friends or sharing their friend code for the first time, readers will see a privacy notice pop up. This informs them that anyone at their library whom they add as a friend or with whom they share their friend code can see their reading activity, like the titles they log and the badges they earned. If they don't accept the notice, they will not be able to proceed to add friends or share a friend code. If they accept the privacy notice, they can always remove friends at any time.
Once accepted, each reader can generate a unique 7-character friend code to share with other readers. By clicking "Add Friends" and then selecting "Share Your Friend Code," readers can copy their friend code, share it via email, Facebook, or Twitter, or refresh it to disable their current friend code and generate a new one.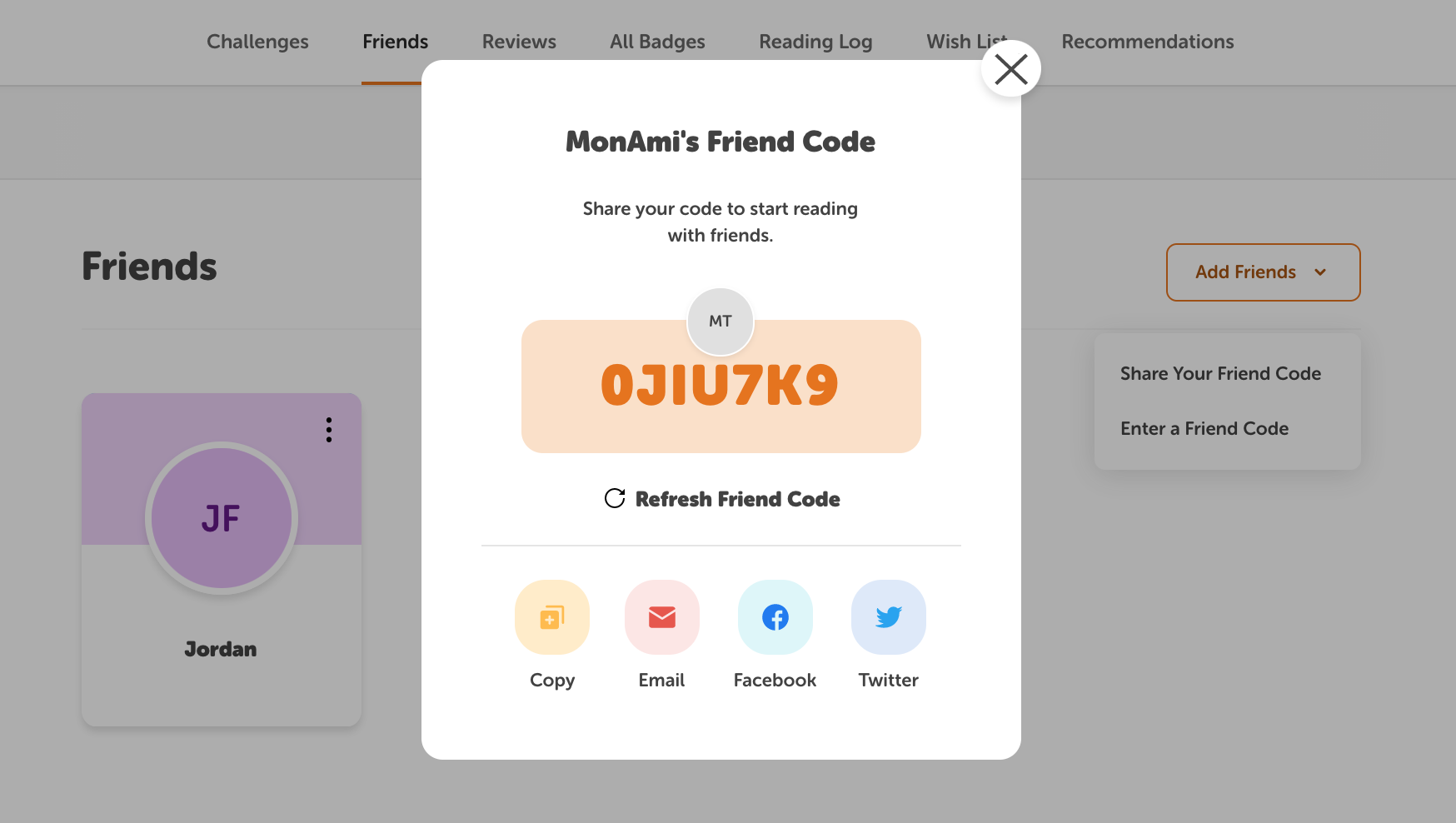 If a reader would like to enter a friend code that was shared with them, they can select "Enter a Friend Code" under "Add Friends." This will allow them to enter someone else's code to add them as a friend. If they enter an inactive friend code, they will receive a "Friend code not found" error.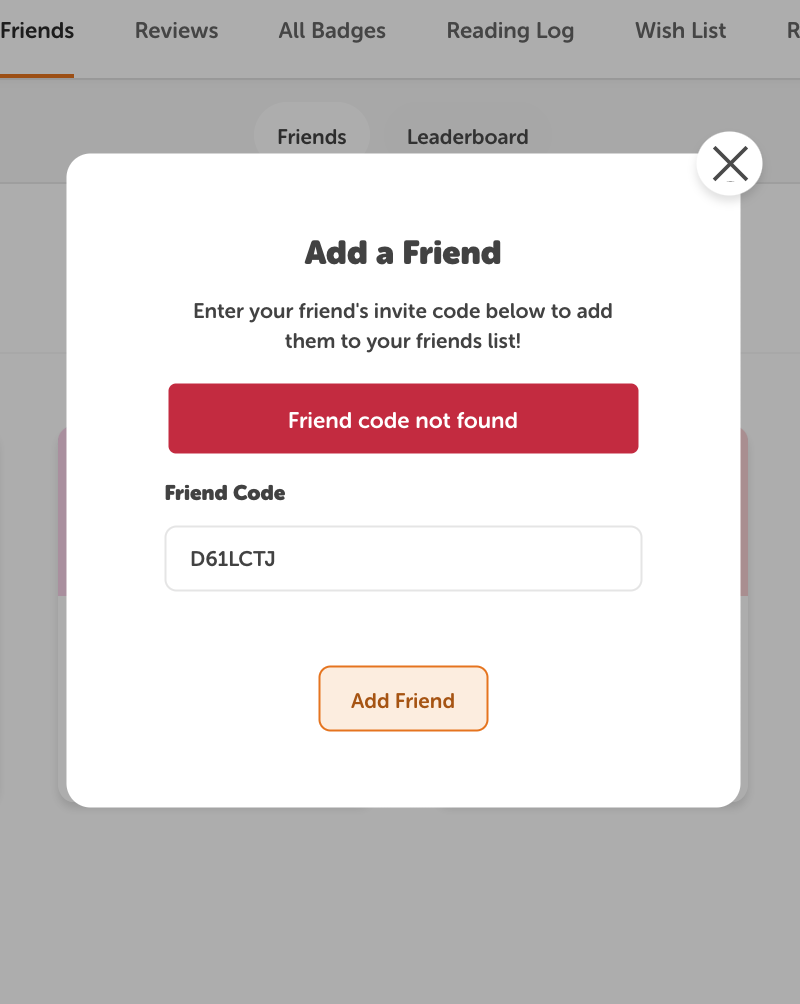 Once a friend is added, a friend card will appear with their name on it. Readers can open a friend card by clicking the card itself or clicking the three dots in the upper righthand corner of the card and then selecting "View Friend." This will open a pop-up window where they can see their friend's last four earned badges, how much reading they have logged, what challenges they have participated in, and what titles they have read.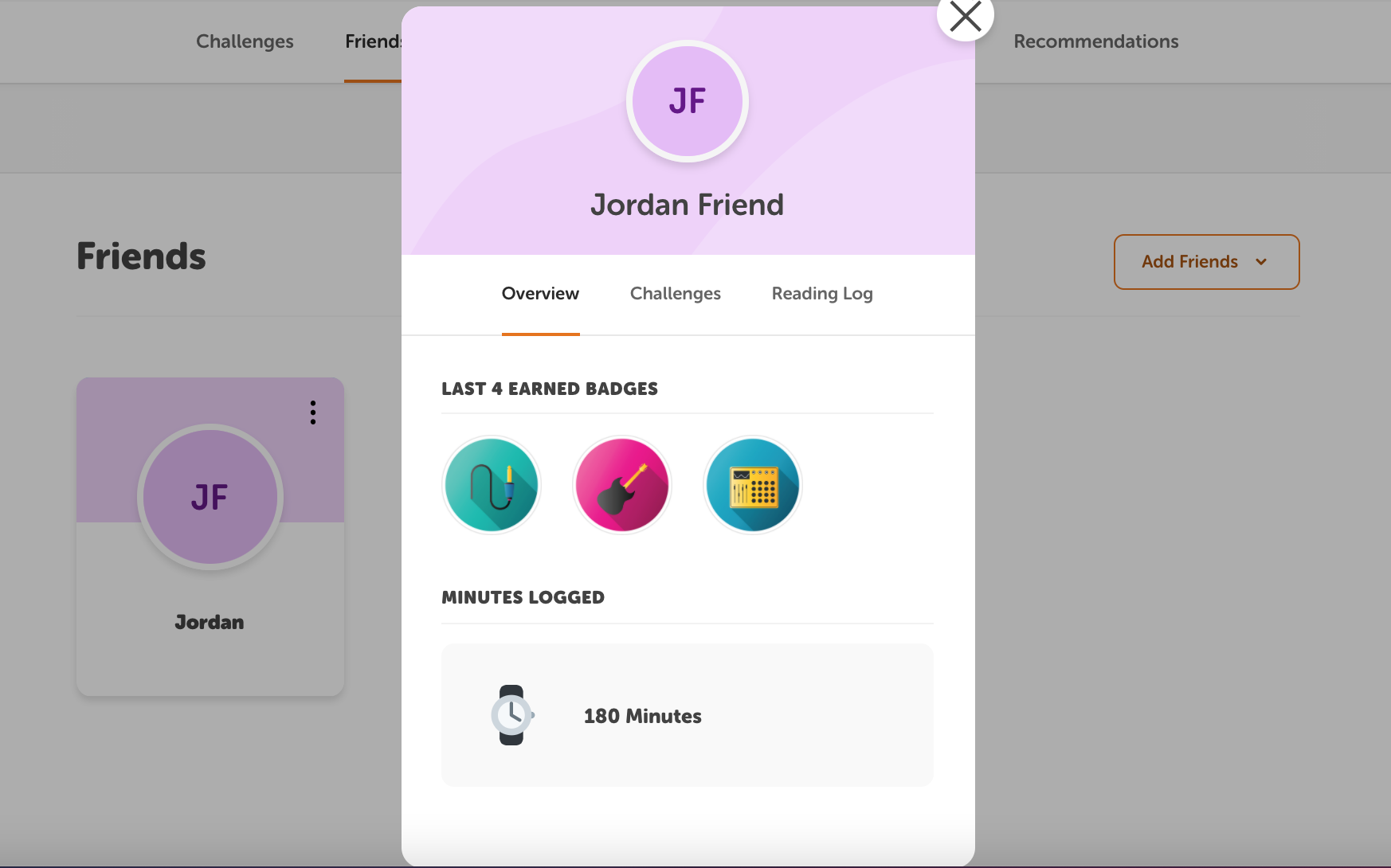 Removing Friends
Readers can remove friends at any time by clicking the three dots in the upper righthand corner of a friend card and selecting "Remove Friend." They will be prompted to click "Remove" one more time to be sure they want to move forward with removing that friend.
Once a reader removes a friend, they will also be removed from that friend's group of friends and leaderboards as well. If they would like to re-add a friend, they will need to do so by entering or sharing their friend code again.
Leaderboards
Readers can compete with their friends on leaderboards by clicking over to "Leaderboard" near the top of the screen, under the first row of header tabs. They will then see all of their friends ranked by their logged reading.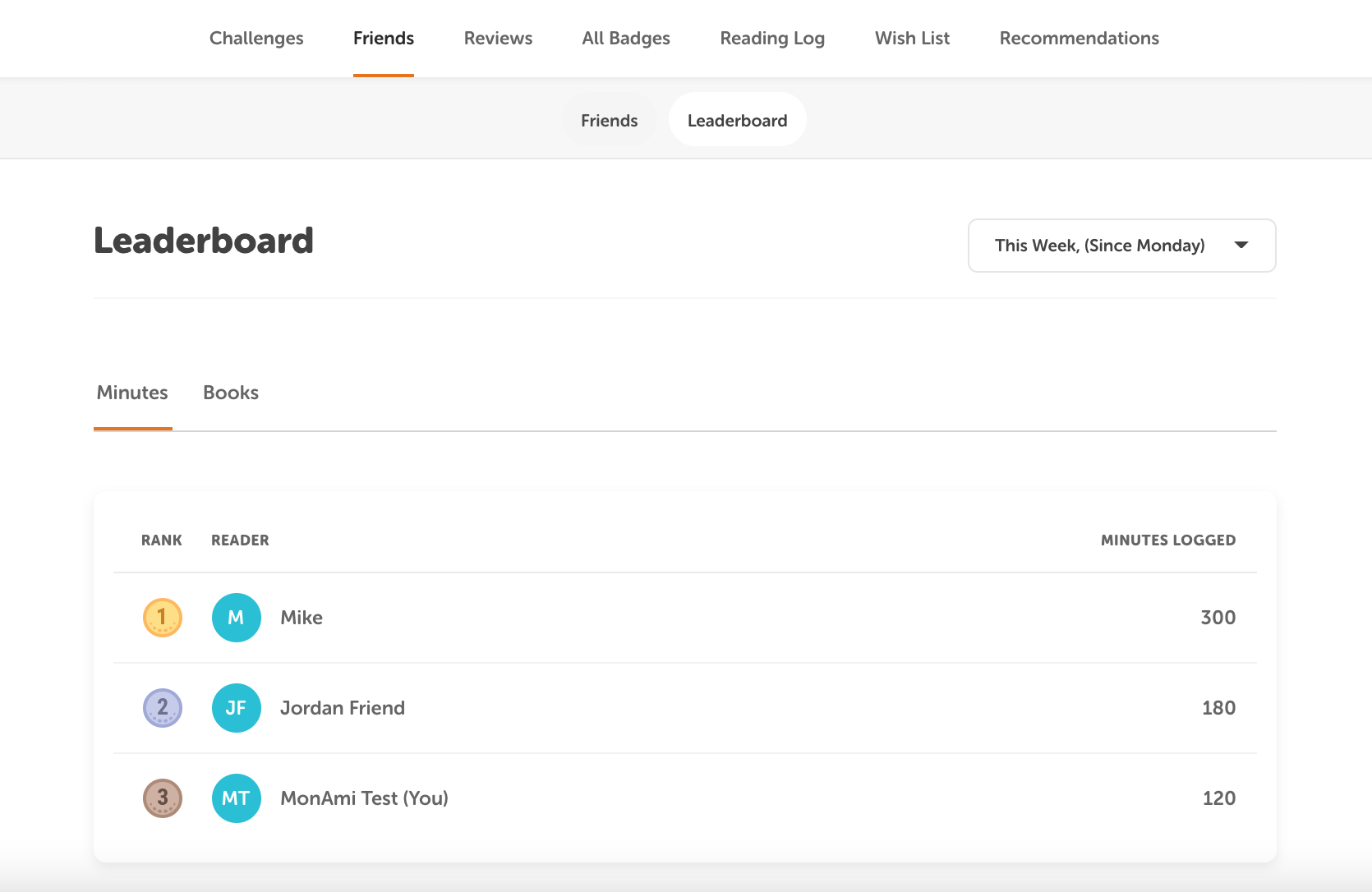 Leaderboards can display minutes and/or books logged, depending on your site setup. Readers can toggle between viewing their leaderboard for the current week (since Monday) or for the past 30 days by changing the selection in the dropdown in the upper left of the leaderboard screen. Only friends who have logged the selected log type during the selected timeframe will appear on the leaderboard.