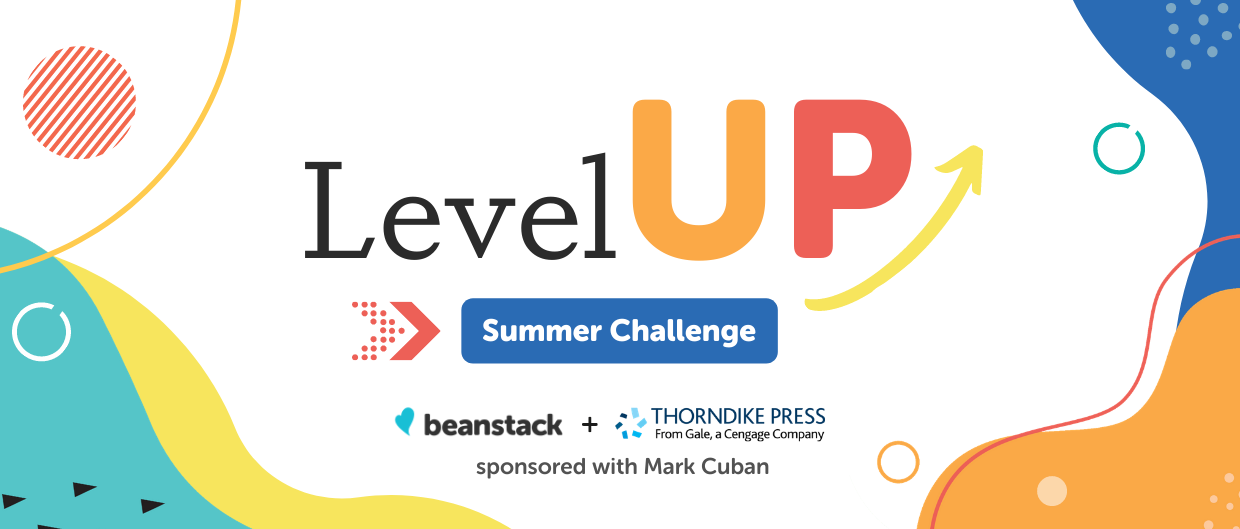 #LevelUp2021 #BeanThereReadThat
Challenge Guidelines and Setup
Challenge Guidelines:
Prize Eligibility: To be eligible for prizes from Thorndike Press and Mark Cuban, you must officially register to participate in the challenge through this form by May 18, 2021. You must also set up your challenge according to the guidelines below.
Time Frame: For the Summer Reading Challenge, we will count reading logged from June 1 - July 16th, 2021. You can always run your challenge prior to June and longer into the summer if you choose, but note that only reading logged from June 1st - July 16th counts toward prizes.
Challenge Name: Your challenge must have "Level Up" in the challenge title.
Log Type: Please set up your reading challenges for books or minutes based on the established goal you set for each reader.
Badges: All our challenge templates include 10 logging badges, registration and completion badges, and activity badges. You can edit or change these badges, but we highly recommend following these guidelines to encourage participation!

Registration Badge: We recommend including registration and completion badges to reward readers at the start of the challenge and push them to finish.
Logging Badges:

We recommend using 6 or more logging badges throughout the challenge.

Activity Badges:

There are badges and activities based on authors from Thorndike Press' large print collection. The activities include learning more about the authors, engaging with their books, reflecting on what is read, and general summer fun activities for K-5.
Artwork: All Summer Reading Challenge badges are available in the "Level Up Summer 2021" badge group within Beanstack's challenge setup.
You can also find all images, including individual badges and the challenge banner, available to download here. You have our permission to use these images and any artwork in this launch kit to promote the Summer Reading Challenge at your school!
Challenge Template Setup:
In order to help make setup as simple and easy as possible, we have created #LevelUp2021 templates. Remember, you must keep "Level Up" in the title of your challenge in order for logging to count toward prizes. And your unique challenge can be extended beyond the dates of our template, however, only reading logged during this timeframe will count.
The correct challenge template(s) should be activated on your site by our central Beanstack team. To activate the template challenge on your site yourself:
Log in to your site as a media specialist and navigate to your admin dashboard.

Click Challenges and then click the Challenge Templates tab.

Search for "Level Up" and select to the desired template to load it onto your site. *Note that there are templates available for K-5, Grades 6-8, and Grades 9-12.
Preview and edit the challenge template(s) as needed, with help from this short video walking you through how to customize the Level Up challenge, and then email Elizabeth at elizabeth@zoobean.com to let her know you finalized your challenge(s).

We will then publish your challenge(s) and enroll all your students.

Additional Resources
School Prizes
Mark Cuban is generously supplying cash prizes and Thorndike Press will donate prize packs that allow libraries to build their large print collections.
Grand Prize: $5,000 and $1,000 of large print books and a virtual author Facebook live chat with your school
Second Place: $2,500 and $500 of large print books
4 Runner Ups: $2,500 and $250 of large print books
We determine winning schools based on multiple factors, including:
Outreach:

Number of registrants in relation to number of students enrolled in relation to school size.

Active participation:

Percentage of those enrolled who actively log during the challenge.

Logging numbers:

Total minutes and/or books logged at the school, in relation to the total number of students and participants.

Community sharing:

Share and post about #LevelUp2021 and #BeanThereReadThat on social media for some extra participation "brownie points." :)
Marketing Resources
Newsletter Blurb Template
From June 1st to July 16th, [insert school name] will participate in Beanstack's First National K12 Summer Reading Challenge, "Level Up," sponsored by Thorndike Press with Mark Cuban. We challenge our students to read at least [insert goal] during the challenge and keep track of their reading on our Beanstack site at [school.beanstack.org or insert directions for logging in at your school]. Hundreds of schools across the nation will encourage their communities to read a target number of minutes and books.
Mark Cuban is generously supplying cash prizes and Thorndike Press will donate prize packs that allow schools to build their large print collections. Happy reading, [insert community name]!
Social Media
Please encourage the use of the hashtag #LevelUp2021 and #BeanThereReadThat. Zoobean, Thorndike Press, and Mark Cuban will be following these hashtags! Additionally, you are more likely to get retweets, reposts, and comments from everyone by tagging us in your posts.
Authors from Thorndike Press and other acclaimed authors will be following along too!

Summer Reading Challenge Press Release

Our press release is available here: Thorndike Press Level Up Press Release

Mobile App Postcard
Want your community to use the app? Us too! Share this mobile app postcard to get the word out!
Customizable Marketing Pieces
We created marketing templates that you can customize for your summer challenge. Note that only certain elements can be customized for your school. These resources include editable social media sharing images, flyers, announcements, and circular images for buttons.
All marketing materials are available for download through Dropbox at this link. After you open the Dropbox file:
Click the Download

button and select Direct

Download

to download the materials to your computer.

Open the zip file to access the images that are now on your local device.

From there, you can open the PDF image(s) or illustrator image(s) you would like to use or customize! You'll see that while some fields in the images are customizable, others are not. Not sure how to customize an editable PDF? Check out this video.
Questions?
If you have additional questions, please open a ticket at beanstack.com/support!