To set up repeatable activities, be sure to contact our support team so that we can set up your site to allow for a setting we call "explorable activities." We will then activate that setting so that your activity badges are not attached to programs, but rather exist at the account creator level. If you can't reach us right away, you can still get started with the rest of the process!
Note: Sometimes administrators ask us if they can simply edit a past program, rather than creating a new program from scratch. You should definitely not do this! Instead you will want to duplicate a program or start a new program.
A. Setup Points Increments
Log in as a library administrator then go to Setup > Site Options > Site Settings. Make sure that "Allow Points" is toggled to on. 
Then, head to Setup > Manage Points System

First, notice which logging types are active, and which are inactive. If you want a patron to be able to log by something, it must be active. Remember you can make that happen by activating a log type with the "logging types" pre-work above.
Actions to Set Activity Points: Activity points are the points assigned to individual activities within learning tracks.

-Select the "edit" icon for Activities.
-Update the number of points a person should earn upon completion of an activity.

How many points should someone earn for doing an activity? This number will be your "Standard Activity" number. All activities default to this number. You may also add "big" or "super" point values. Even if you do not use these, keep in mind that they must have values that are greater than the standard activity.

Actions to Set Logging Points: Choose the active log type for which you want to reward points.

-Select the "edit" icon for this log type.
-Determine the Goal for this log type.
The goal is the required minimum number of items that must be completed to earn the reward. For example, if you read 1 book, you earn __ points. Determine the Points for having achieved the goal. This is the amount of points awarded for completing the goal.

Note: Patrons see points pop up as they earn them in these increments. They do *not* earn a badge or prize until they have reached the points milestone that you will set in the step four!
Repeat for all log types for which you want to reward points.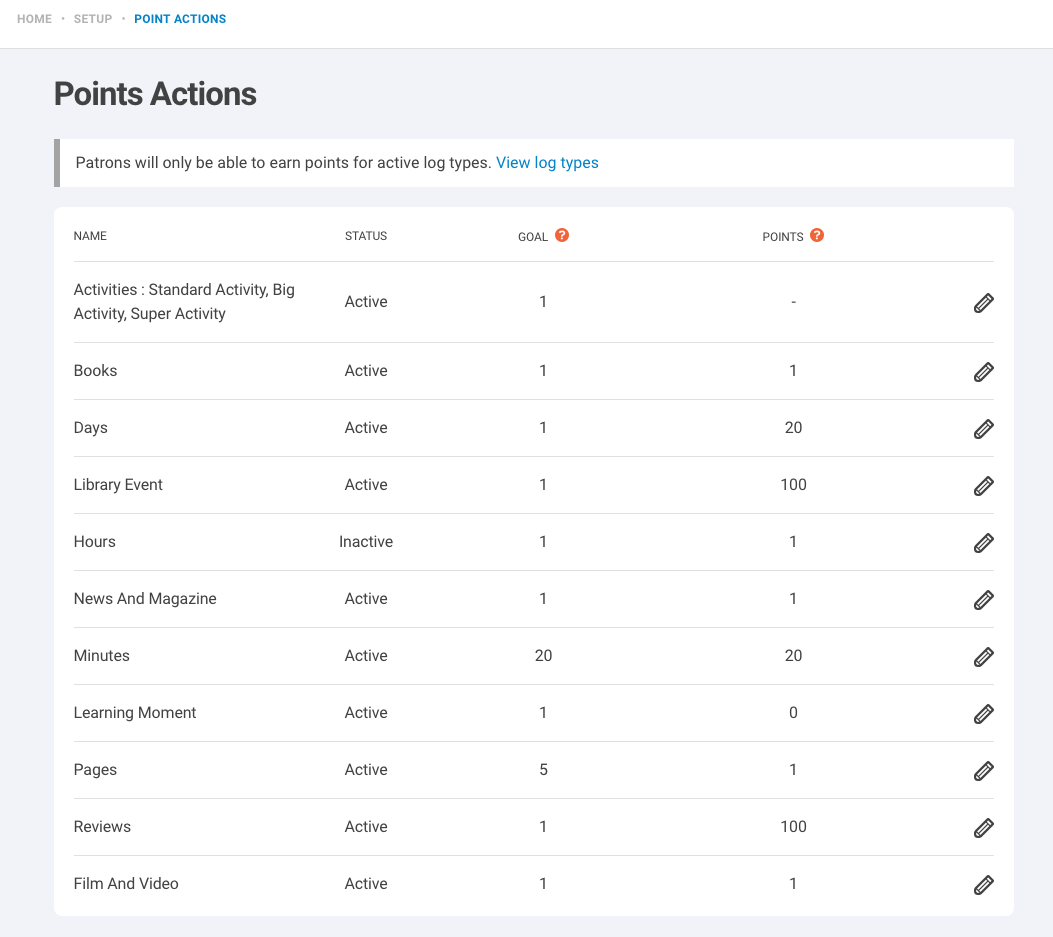 B. Create a Program
Get There -- Setup > Manage Programs > Create a Program

Click on the "Create a Program" button
Select "Earning Points" for the way in which people can earn badges.
C. Program Setup


Enter Basic Information
-Program Name: What do you want to call this program? The name will be visible to patrons.
-Description: Provide a description of your program. If you have a paper reading log, be sure to link to a PDF (printable) version of the log within the description. You may use html code in your description to add things like italics, boldface, color, and more to the description.
Program Ages or Grades: For what ages or grade level is this program available? Remember, if you are scoping a program according to grade level, you want that registration field to be required on your site.

-Program Position: If you are offering more than one program, determine where it will appear on a patron's page. 

-Header Image: Include a program image. The ideal size for this image is 920x351.


Program Availability 
-Ages/Grade: Determine if you want this program to be available to patrons based on their age or grade level? 

-Program Dates: What are the dates on which this program will be live and available to patrons? Note that in the date fields. If you leave this blank, the program will be considered "ongoing."
Staff Only or For Patrons/Customers: Is this program intended to be only for those with staff level access? If so, select "yes," only for staff members. This is a setting you may change later.


-Staff Only: Choose staff only if you do not want your patrons to view this program.  This may be helpful in testing your program before you launch it to the public. 

-Alternative Programs: Determine whether you patrons should only participate in this program, or if they can enroll and participate in additional programs.




Required Registration Information: Select which questions you want to require your readers to provide before enrolling in the program. Note that if they already provide this information when they register for Beanstack it is likely unnecessary to require your readers to provide this information again.
C. Badges


At the top of the page you will see the types of logging that you have enabled for your program/challenge. 




Badge Time Restrictions: Select "Any Time" if you want badges to be earned at any time during a program/challenge, or you select "Restricted" if you want badges to be earned within a specific time frame.




Set Registration Badge: Including a registration badge is recommended for all programs! Select "Add a Badge." From there, click on the badge you want to "pop up" upon registration for a reader. 


Here you can select badges from different badge groups.  If you click on one of the groups, you will then only see badges associated with that group as options below. This is an optional action, and can save you time if you already know the group to which your preferred badges are attached.  If you have uploaded your own custom badges they will also show up in the filter options.
Once you select the badge, the ability to add a reward will also become available. You may select an existing reward on your site or create a new reward.

Registration Badge Rewards: Once you add a reward, it will be available to use for other programs as well. Keep in mind that the "Instructions for recipients" will appear with a badge when it is earned, will remain on the reader's dashboard, and will also go to their email as a notification. For example, you may want to indicate a "pick up by" date for a prize in the instructions.

To add a new reward click on "+Add New" and add instructions on how patrons can receive their reward.  Then, click "Save and add".

You can now select your new reward from the registration badge's drop-down menu.


Set Completion Badge: To create a new completion badge, select Add a Badge. Select the badge image you would like to use.



Ask yourself, at what increments do we want to acknowledge achievement with a virtual badge, or virtual badge and a prize? For example, consider completing this phrase, "I want a reader to earn a badge for having read ___ books/mins/hrs, etc." You will have the chance to determine what a completion is for a program later in the setup process.

Completion Badge Rewards: Is there a reward available for having completed the whole program? If so, add the badge and reward here. If you plan to connect a completion reward to a logging badge or activity badge, then do not add a completion reward or it will be awarded twice!  Set up a completion badge reward the same way you would a registration badge reward.



Set Points Badges: To create a new points badge, select Create a Points Badge.
Click on the image that you want to use.


Next, choose your "goal."
For example, you may set a badge to be awarded when someone has earned 10 points. The second badge would be cumulative. For example, the second badge might be worth 20 points, which would be awarded after the person achieves ten more points. You do not want several badges that are worth 10 points.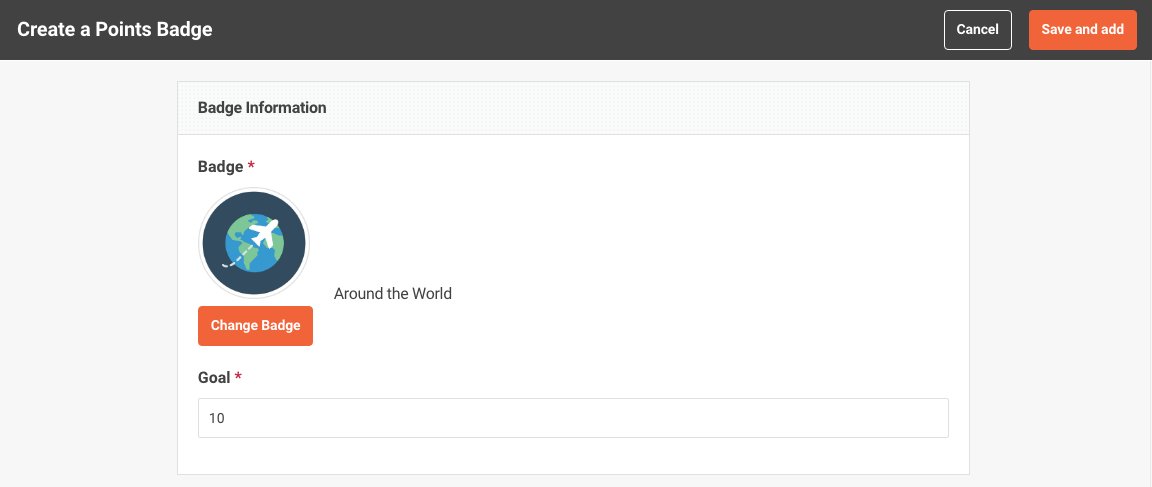 Create as many points badges as you like!
Points Badge Rewards: Add an existing reward by selecting from the drop-down menu or create a new one by selecting "Create A Reward".


Patrons will receive a notification when they earn a reward, and this will also be indicated for staff to see on the patron's page.

Certificates: Certificates are automatically generated within Beanstack. They are very basic in design, though can have custom language. Once earned, certificates are available for download by a patron.

Click on "Create a Certificate"
Enter the information as you see fit. Then click "Save and add"

Note: If you have an existing certificate that you want to award as part of a program, we recommend that you create a "reward" called "Certificate" or "Certificate of Completion".
In the reward description, include a link to a printable version of your certificate

Time Restrictions: Leave this blank.
Click Save and Add. Continue to add as many points badges as needed.
Save program as "Draft" & exit.

D. Activity Badge/Track Set Up

Activity Badges/Learning Tracks: With points programs, you may highlight activities on the front page of the reader dashboard, or let activities be discoverable in the same way that logging reading would be - through the "log reading and activities" button.

To create explorable activity badges/learning tracks for your points program, go to Content > Activity Badges/Learning Tracks
Here you can see any active activity badges that are "Showing" have a green check mark next to them. 
Click "Create a Activity Badge." Make sure this badge is visible! Then enter a title and description for your badge.

Enter the badge details. You will likely want this badge to be active and available to everyone. Keep in mind if you make a badge repeatable, you cannot add activity codes (secret codes) or text box challenges (prompts) to the activities. Also note there are no prerequisite options if you have selected repeatable activities.

Select your badge image and create or add any rewards you would like to attach to the badge.

Determine what ages/grade levels will be able to see this badge. Then click "Create" to create the "shell" of your activity badge. 
 Once you have created the "shell" you can add your activities by clicking "Add an Activity" 


Next, fill out the information for your activity and click "Add." Continue this action to add additional activities. 

Description: What is the activity/action required? For example, "Attend an event at your library."
Link title will be the text that is hyperlinked should you want to include a link.
Link URL is the link to which you may send someone for further information

Activity Types: Use Points! Indicate the number of points that should be awarded for completing this activity.

Important Notes:

*Create your activity badges to include whatever activities you want. Remember to assign a point value to each activity. Make sure they are visible to STAFF only or else set to be INACTIVE.
*Do NOT add tickets or prizes to any of the activity badges
*You can always add or remove activities, and you and easily drag and drop the activities to change their order. Repeat for as many activity tracks as you would like to create per age group.
Return to Content > Activities (or Activity Badges/Learning Tracks depending on what your site calls these) to see which activity badges are showing on your site!

Hide any tracks that are currently "Showing" on your site that you do *not* want readers to access. To do so, click inside the box next to the track to remove the green check mark. Don't worry this won't impact your other programs!