Insights are a dynamic feature that provide an easy way to view your library's data.
You can tailor your insights experience by creating a customized dashboard. Choose the metrics, statistics, and demographics you want to view data like how many new registrations you acquire on a weekly or monthly basis, how many books or minutes readers have logged, and top books read!
Selecting different filters like age, grade level, challenge, and date range will allow you and your staff to see how your programs are tracking solely on their own or compared to others.

This at-a-glance view is a great way to get quick data without having to download a report.
See your library's insights by logging in as Library Staff Plus (or above) and clicking on Insights:
First, decide if you want to look at your data for all readers, or for readers in a specific reading challenge.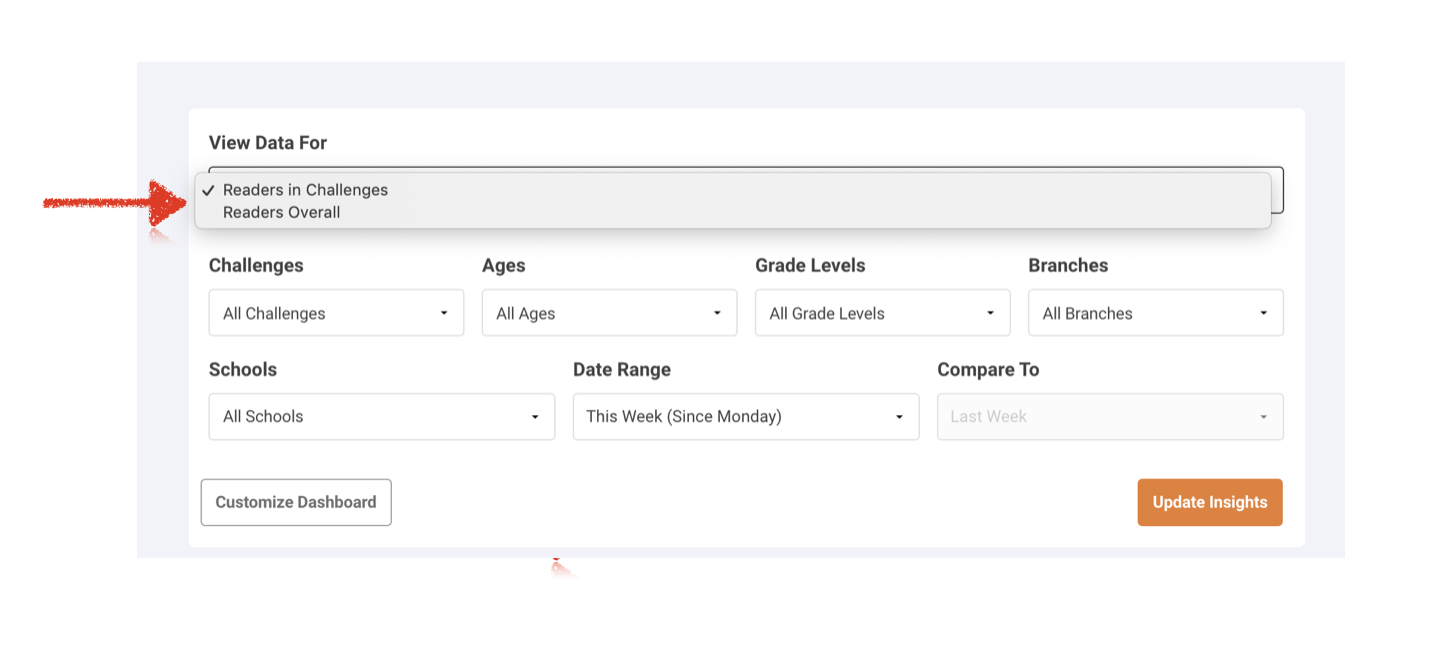 NOTE: When you choose readers who are in a specific reading challenge, you want to consider any readers who might be enrolled in multiple challenges. For example, if a child is enrolled in Summer Reading and 1000 Books Before Kindergarten and reads one book that "counts" towards both reading challenges, that book will show up as one book if you choose 'All Readers' but two books if you choose readers in 1000 BBK and Summer Reading.
Customize Your View: We suggest clicking on "Customize Dashboard" at the top to customize the information that you see. Don't care about pages read? Remove it from your view and reduce the data to things that you really care about seeing.
Choose Parameters, Especially Your Date Range: Determine the parameters for the data you want to see. Remember that if you are choosing dates and looking specifically at challenge data, you may want to also consider the period of pre-registration and be sure to include that in your custom date range.
Get the details by clicking on your data!
Hover To Discover! Hover over the "i" icon to learn more about what each piece of data signifies.
Insights Cache Every 24 Hours: If you run a certain search right now, the results for that search will not update for another 24 hours. That said, if you change one parameter of the search, the results will update.