Note: Sometimes administrators ask us if they can simply edit a past challenge rather than create a new one from scratch. You should definitely not do this! Instead, you will want to duplicate an existing challenge or create a new challenge.
Create an Activities-Only Challenge
Follow the steps below to create a challenge based on activities. Remember to save your challenge often!
Log in to the administrative side of your site.

Go to Setup > Manage Challenges.
Click Create a Challenge.
Select Completing Non-Repeatable Activities as the way that readers can earn badges in your new challenge.
Then, decide if you want to create a custom challenge from scratch or use one of Beanstack's challenge templates. Click on your choice.
Challenge Setup
After making those selections, you will be taken into challenge setup. This is where you will enter some basic information for your challenge. Follow the instructions below to complete your challenge setup page, and remember to save often!

Enter the Challenge Name: What do you want to call this challenge? The name will be visible to your patrons. We recommend making all challenge names unique and easily identifiable, both for patrons and for staff. An easy way to do this is to include the season and year or age range in the title.
Enter a Challenge Description: Tell your patrons all about your challenge! We recommend a description length of at least 140 characters so that participants have a good sense of how to participate in and complete the challenge. If you have a paper reading log, be sure to link to a PDF (printable) version of the log within the description. You may use HTML code in your description to add things like italics, boldface, color, and more to the description.
Set the Challenge Position:

If you are offering more than one challenge, determine where this one will appear on a patron's page.

Add a Header Image: Include a challenge image. The ideal size for this image is 920px x 351px.
Scope your challenge by Age or Grade: To which ages or grade level is this challenge available? Remember, if you are scoping a challenge according to grade level, you want that registration field to be required on your site. Also remember that we recommend to scope all active challenges by either age or grade, but not a mix of the two.
Set the Challenge Dates: What are the dates on which this challenge will be live and available for readers to participate in? Select those dates on the calendar in the date fields. If you leave this blank, the challenge will be set as ongoing.
Determine if the challenge is Staff Only: Is this challenge intended to be only for those with staff level access? If so, select Yes, only for staff members. This is a setting you may change later, but may be helpful for training/testing purposes!
Decide if you would like readers to be able to preregister for your challenge. This means that eligible readers will be able to enroll in the challenge as soon as it is published, even if it's before the official challenge start date. They will not be able to participate in the challenge until the start date, however. If you would not like to allow preregistration, toggle this option to No.
Determine if you would like to enable Alternative Challenges:

Decide whether readers may participate in this challenge

and

any other challenge, or if they need to choose between this and another challenge.

Select additional Required Registration Information: Select which questions you want to require your readers to provide before enrolling in the challenge. Note that if they already provide this information when they register for Beanstack, it is likely unnecessary to require your readers to provide this information again.
Badges
The next section of your challenge to setup is badges. This is where you will create activity badges, choose badge images, attach any rewards or certificates, and enter the information for your activities.
At the top of the page you will see the Earnable Badge Types, which indicate the type(s) of logging that you enabled for your challenge.
One section down, you will see Badge Time Restrictions. Select Any Time if you want badges to be earned at any time during the challenge duration, or select Restricted if you want badges to be earned within a specific time frame. We do not recommend making badges restricted only to enter the challenge start and end dates as the specific time frame. Patrons are already restricted to the challenge dates!
Next, you will note there are three types of badges in a challenge based on activities: a Registration Badge, a Completion Badge, and Activity Badges.
Including a registration badge is recommended for all challenges! Follow the steps below to add one to your challenge:
Click Add a Badge

Then, select the badge image you want readers to earn upon registering for the challenge. This badge will automatically pop up when they enroll in the challenge.

You can search for a badge title or select badges from different badge groups listed on the lefthand side of the pop-up window. If you click on one of the groups, you will only see the badges associated with that group as options. This can save you time if you already know the group to which your preferred badges are attached. If you have uploaded your own custom badges, they will show up at the top of the list, below the search bar.
Once you select the badge, you can also add a reward. You may select an existing reward on your site or create a new reward. Once you create a reward, it will be available to use for other challenges as well. Keep in mind that the text in the "Instructions for recipients" field will appear with the badge when it is earned, will remain on the reader's dashboard, and will also go to their email as a notification. You may want to include pick-up instructions in this field.
Follow the instructions below to create and add a reward to your registration badge (or any badge):
Return to the Badges page of your challenge setup and scroll down to the registration badge.
To add a new reward, click on + Add New.
Then, add the reward name and instructions for recipients. We recommend using unique names for rewards, so that they are not confused with the badge name or with other rewards.
Click Save and add.
Once saved, the reward will be automatically selected in the registration badge's reward dropdown menu. You are able to add multiple rewards to a badge.
Next, you have the opportunity to add a completion badge. Ask yourself: At what increments do we want to acknowledge achievement with a virtual badge or virtual badge and a prize? For example, consider completing this phrase: "I want a reader to earn a badge for having completed ___ activities." You will have the chance to determine what a completion is for a challenge later in the setup process. Completion badges are not required, but they are a good way to reward readers. They are often helpful for your staff when running reports, too, as it makes it easy to see who has completed your challenge!

Follow the instructions below to add a completion badge:
Return to the Badges page of your challenge setup and scroll down to the completion badge.

Click Add a Badge.
Select the badge image you would like to use.
Determine if you would like to add an existing reward or create a new reward for the completion badge. Is there a reward available for having completed the whole challenge? If so, add the reward here. If you plan to connect a completion reward to a logging badge or activity badge, then do not add a completion reward, as it would be awarded twice! Set up a completion badge reward the same way you would a registration badge reward.
Now it's time to set up your activity badges! Activity badges must house at least one activity, and can contain any number of activities above that.
Follow the instructions below to set up your activity badges:
Return to the Badges page of your challenge and scroll down to the activity badges.
Click Create a Badge.
Enter a Title and a short Description for the badge.
Click Choose Badge to select the badge image.
Decide if you want this badge to be active or inactive. Inactive badges are hidden from the reader view until it is activated.
Select if you want patrons or staff only to be able to view this badge in the next dropdown.
Enter the minimum number of activities that you want readers to complete to earn the badge in the next field. You can leave this field blank if you want readers to complete every activity before earning the badge.
Select a specific Prerequisite Activity Badge if you want readers to have to complete another activity badge before this one. Make sure that badge is active and included in your challenge, or else your reader will not be able to complete either badge! If readers can complete the activity badges in any order, then leave the No Prerequisite selection in this field as is.
If you would like to restrict the activities in this badge so that they can only be completed within a specific timeframe during the challenge duration, toggle the date restriction to Enabled. Then, select a start and end date. Remember that readers are automatically required to complete an activity within the overall challenge dates, so instead of entering identical challenge dates, simply toggle to Disabled.
Then, you may create or add a reward or certificate to be awarded to the reader when they earn the badge.
Click Save and Add to save the badge and proceed to add activities to it.
On the next page, click Add an Activity.
This will bring up a window on the lefthand side of your screen to add a Description to tell readers what activity/action is required or to ask them a question. You can use HTML to format your description. You can also easily add a link below the description, using the Link Title and Link URL fields, to direct your readers to a video, a book list, or another site.
Select the Activity Type from the dropdown.

Activity will prompt readers to check a box certifying they did the activity.
Activity Code allows you to enter a code or word that readers must type in to complete the activity.
Text Box Challenge will generate a text box under the description for readers to write an answer to a question to complete the activity.

If you have points enabled on your site, there will be a points selection field. Select Don't award points for this activity unless you are enabling points as an earnable badge type and adding points badges to your challenge.
Click Add to add the activity to the badge, and repeat for any other activities. You can always add or remove activities, and you can easily drag and drop the activities to change their order using the icon depicting three lines that is to the left of the activity name.
Click Done when you are finished adding and editing activities to that badge.
Repeat for additional activity badges. We recommend including at least 12 badges per challenge, so for an activities-only challenge with a registration badge and a completion badge, the optimal number of badges would be 10 or more.
Tickets

Adding Ticket Drawings to your challenge is optional. Ticket drawings allow you to attach tickets to certain activities and badges and to add multiple ticket drawing prize options within the challenge. Then, readers can determine where they want their entries to go. See this Helpdesk article to set up a ticket drawing.
Completion Requirements
The final part of building a challenge is determining the Completion Requirements. This is where you can decide how many badges and/or which badges are required to complete your challenge. If you have added a completion badge, this will determine when the badge is earned. Even without a completion badge, you still need to set completion requirements, as challenge completion is tallied for reports.
Select Require All Badges if you would like all badges included in the challenge to be required for challenge completion.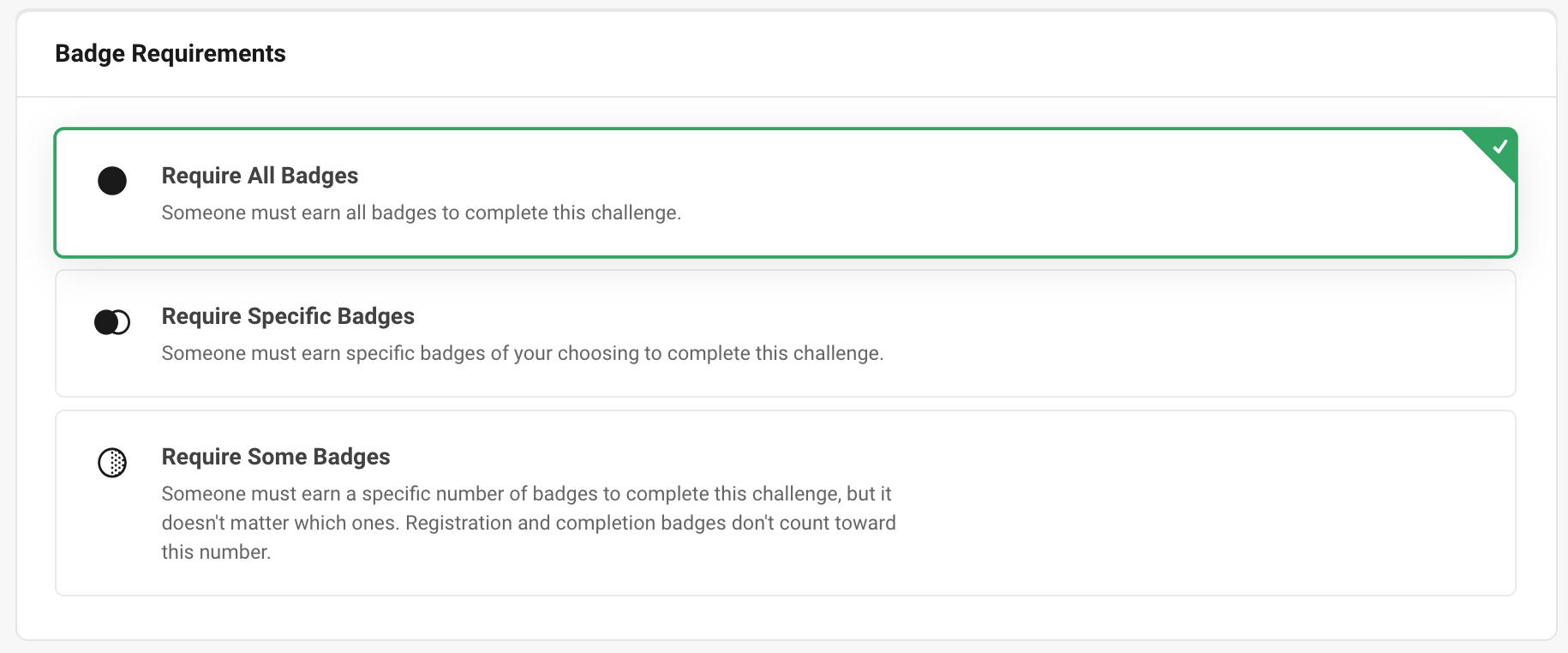 Select Require Specific Badges if you would like to select a specific badge or specific badges that must be earned to complete the challenge. Then, make sure you select at least one badge in the Required Badges section that will appear below.
Select Require Some Badges if you want to dictate how many badges must be earned to complete the challenge, but it doesn't matter which ones. Note that registration and completion badges are not included in this number.
Publish Your Challenge
If you have specific questions or want your challenge reviewed before you publish it, you are always able to write in to our Helpdesk and request a challenge review. Be sure to include the name of your challenge and any specific concerns you have, and keep in mind that it can take up to five business days for us to review your new challenges during our busy season.
Once your challenge is finalized and ready to be public, change its status from Draft to Published using the selection in the upper righthand corner. Then, click Save.

Once saved, your challenge is live and visible on your site. If you selected to allow readers to preregister for your challenge, it will immediately be available for them to sign up.